Our Favorite San Miguel Restaurants
Something for Every
Taste and Every Budget
I
n San Miguel de Allende, there is certainly no reason to go hungry! There are
San Miguel restaurants
for every possible taste and budget. You could spend a month, eat every meal of every day in a different place, and still not try them all.
You can also eat your way around the world. Chinese, Lebanese, Italian, American, Argentine, Uruguayan, Thai, German, French, and, oh yes, ...Mexican restaurants greet you on practically every corner. You can eat, drink, munch, snack, sip and dine elegantly or casually in this cornucopia of San Miguel restaurants.
In general, Mexicans still eat their main meal of the day at mid-day. This is called comida and is usually eaten between 1:00 and 3:00 pm. It's a big meal enjoyed in a leisurely fashion. Many San Miguel restaurants—especially those catering to a predominantly Mexican clientele—will offer a comida corrida.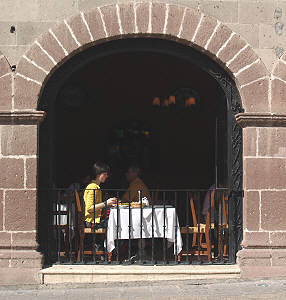 This is the daily special, the Mexican equivalent of the "blue-plate special." It usually consists of soup or salad, a choice of two or three main dishes, generally served with beans and rice, dessert and coffee, tea or a fruit water like limeade or mango water or the delicious jamaica, a refreshing drink made with dried hibiscus blossoms.
This can often be a very good deal if you're trying to eat on a budget. It's also a healthier way to eat, as opposed to the common "light-lunch-heavy-dinner" we often choose North of the Border.
The "Best" Restaurants in San Miguel
In this section, we'll introduce you to some of the "best" San Miguel restaurants. But how do you define "best"?
Pretty tough job, when there are so many different types, flavors, service levels, price ranges. So let's change that to "favorites."
Here are some of my personal favorite restaurants in San Miguel de Allende. These are the ones I find myself going back to over and over, places where I'm comfortable, where I like to meet friends. Places where I like the food and I think the prices are fair. Most of them have been around for a long time—not a bad criteria for picking the best. There must be a reason they keep on keeping on. A couple are new but look like they'll be keepers.
NOTE: This is a dynamic page. I'll be adding restaurants to this list all the time, so keep checking back to see what's new.
Insiders' Tip: To get the most out of your dining-out dollars (and pesos), join the VIP Club of San Miguel. Your membership card will save you a hefty percentage on meals and drinks at dozens of San Miguel restaurants—as well as many other services and products in town. It's the best bargain in San Miguel de Allende.

Ristorante Da Andrea - $$$$$
For a "destination dining" experience at what may be the very best restaurant in San Miguel de Allende, go 15 minutes out of town to the 300-year-old colonial Hacienda La Landeta and Ristorante Da Andrea. Settle at a patio table for some of chef Andrea Lamberti's Italian magic...

El Ten Ten Pie - $$
My #1 favorite restaurant in San Miguel de Allende—and I swear I'd say that even if the owner wasn't a good friend! Good home-style Mexican food at excellent prices. Give it a try and it may become your favorite "hang-out," like it is mine...

La Posadita - $$
One of the best views in town, the best pozole, great prices... and frozen tamarind margaritas! You've got to give this place a try...

El Pegaso - $$$
A decades-long staple in San Miguel, popular with Mexicans, ex-pats, and visitors of every stripe. You'll love the food and laugh at the folk art on the walls...

Olivers - $$
Try this cozy little place for what may be the best hamburger in San Miguel. And tell Jesús and Elly we sent you...

Café San Agustín- $$
When you're craving something sweet and rich...and Mexican..., you're wanting churros from Café San Agustín...

Restaurant Ole Ole- $$
It's all about the meat—fajitas of beef, chicken, shrimp, ostrich—but it's also all about the bulls and bullfighting...

La Brasserie- $$
A cozy, casual yet classy French brasserie with a Mexican accent, this place takes over Café la Parroquia at night...
Other People's Favorite San Miguel Restaurants?
Over time, I'll be adding more of my own recommendations and notes about my favorite San Miguel Restaurants. The more I try...and love...the more I'll tell you about.
But I'm only one person and I can't eat everywhere! So click here to read about some other visitors' favorite San Miguel restaurants.

And then please join in! Have you had a mouth-watering experience at a San Miguel restaurant? Share it with us here.



Return from San Miguel Restaurants to Experience San Miguel HOME