The VIP Club of San Miguel
Your Passport to Big Savings
G oing to San Miguel? Like to eat out? Then a membership in the VIP Club of San Miguel de Allende should be your very first purchase, definitely before you enter a single restaurant. At $500 pesos (less $35 US), this might turn out to be the best money you spend for your whole trip.
Started in the year 2000 by ex-pat writer Lou Christine, the VIP Club of San Miguel is an ingenious way to save money while enjoying many of the best and most popular bars and restaurants in San Miguel de Allende. The VIP card gets you discounts of up to 20% on your total food and bar bill for up to four people.
And it's so simple to use. Just hand it to the waiter when requesting your bill. That's it. Enjoy your discount. It's one of the most luxurious ways to eat cheap in San Miguel.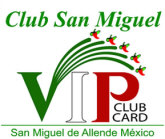 Saving Money in Restaurants in San Miguel
Even if you are only visiting San Miguel for a short time, the VIP Club might be a good option for you, especially if you are staying in a hotel and have no kitchen available. Eating out becomes your only choice, and those meals can really add up. In many San Miguel restaurants, it's not hard to run up a bill of $25-40 for two people, and in the nicest places it can go much higher, especially with drinks added in. You'd only have to save 10% on about 10-12 meals to pay for your card. Then you're in the black for the rest of your stay.
If you are lucky enough to live in San Miguel de Allende, and you like to eat out, then the savings can get serious indeed. If you like variety, you can just about eat your way around the world with the VIP Club of San Miguel. The card is accepted at restaurants serving Mexican, Italian, Chinese, Irish, Catalan, Argentine, Cajun, and vegetarian food. Just check your mood and pick your restaurant from the constantly growing and updated list.
Some club restaurants do have restrictions, such as a minimum purchase, or cash only sales. The card is good for up to four people on the same bill, but a few will accept it for larger groups if you ask before ordering.
Saving Money on Services in San Miguel
And it's not only restaurants that accept the card. There are now more than three dozen other establishments that accept the VIP Club of San Miguel card. Need a suit cleaned? Get 10% off at Drycleaners USA. Motorcycle having problems? Kawasaki Motorcycle Parts & Service will give you a break. You can save money on Darla's Jewelry, Dupont Paint for your house, and even get a discount when you get your propane tank refilled. Get coffee by the kilo, print out a digital photo, take an art class, get your computer fixed, go horseback riding or have your dog groomed—and save money on all of them. You can even get a premium exchange rate when you change dollars for pesos by flashing your card.
This is one of those honest-to-God great ideas I love recommending to people. Get the card.
There are several places in town where you can buy it, including Border Crossings, (Mesones 57); La Conexion, (Aldama 1); RE/MAX Colonial, (Portal Guadalupe 2); and Solutions, (Recreo 11).
You can see a full line-up of all the current businesses and restaurants in San Miguel that accept the VIP Club card by visiting the club's website. Questions? Email the club at vipsma@gmail.com
Buen Provecho!

Return from VIP Club of San Miguel to the Home Page