Fast Facts About
San Miguel de Allende
Why...Where...Weather... and Other Stuff You Need to Know
S o, you've got questions about San Miguel de Allende, some of them pretty basic. Maybe you're planning your first visit to SMA, or maybe you're looking at the idea of moving here.
There are dozens of answers to the question "Why San Miguel...?" Most of them might sound a little esoteric. Folks do tend to go on about the "energy" here, tossing around words like "magical," "mystical," and "colonial ambiance."
But hard information is what you need now. You want to know who lives here, how you might fit in, where to worship, what kind of weather to expect. Here are a few Fast Facts, some main points to know about San Miguel, to get you started on your Mexican adventure. Click on the links for more details.
Why San Miguel?
Well, I'm biased, but to me San Miguel de Allende is as close to perfect as a vacation place can get, and even better as a place to live. Here are all my answers to the question Why San Miguel. See if some or all of them may fit you, too.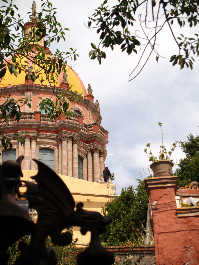 Where is San Miguel de Allende?
We're not hiding. Go here to find out exactly Where is San Miguel?
What's the Weather Like?
San Miguel de Allende has pretty much a perfect climate. Here's a full description of the weather in San Miguel de Allende (and a video of one of our dramatic summer rainstorms!)
The History of San Miguel
San Miguel de Allende has been building a rich history for more than 450 years. Here you can read the whole story of the History of San Miguel de Allende .
Who Lives in San Miguel?
One thing about San Miguel de Allende: information is seldom exact. There's an ongoing debate about the exact population size and make-up of San Miguel de Allende. The 2005 census counted a little over 139,000 sanmiguelenses. However, that number is for the entire municipio, something like a county or metropolitan area in the U.S. It includes all the small, outlying ranchos and communities that are governed by San Miguel.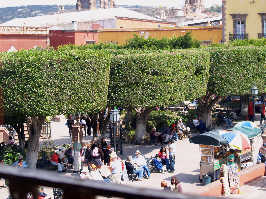 Today, most accounts put the population of the actual town at about 80,000. Of these, about 10-12,000 are foreigners, some 12-15% of the population. Roughly one-third of those are on short-term tourist visas—six months or less—with the rest having permanent residency status.
So when some people complain about San Miguel de Allende and say it's an "American town," just point out that at least 85% of the population is Mexican. I'd say that's a pretty large majority!
Some 70% of the ex-pat community is from the United States, approximately 20% are Canadian, with the rest from other countries, especially from Europe.
Important Contact Information
American Consular Agency
Hernandez Macias #72, Int. #6
Tel: 152-2357
Fax: 152-1588
Hours: Mon-Thur. 9 am - 1 pm, Open Fridays by appointment only
This office can offer advice and information for U.S. citizens traveling in Mexico. If you fall afoul of Mexican law, they can offer assistance. You can get official translations of documents into Spanish and/or have documents notarized, do passport renewals, get help with financial statements for FM-3s, etc. (for a fee).
The extremely helpful Consular Agent is Ed Clancy.
Canadian Consular Agency
There is no longer a Canadian consular agency in San Miguel de Allende. For assistance, Canadian citizens should contact the Canadian Embassy in Mexico City
Schiller 529
Col. Polanco
Mexico D.F
Tel: 01 (55) 5724-7900 or toll free (in Mexico) 01-800-706-2900
Fax: 01 (55) 5724-7980
email: www.canada.org.mx
Church Services in San Miguel
A number of Spanish-language churches offer services and masses is English. Many other churches and religious groups hold meetings and services in English as well. Here is a list of the English-speaking church services in San Miguel.

12-Step Meetings in San Miguel de Allende
There are nearly two dozen weekly 12-Step Meetings in San Miguel—AA,Al-Anon, ACOA, CODA, and others. Here's a compelete schedule of 12-step meetings in San Miguel de Allende.
How to Call San Miguel de Allende from the U.S. and Canada
Mexican land-line phone numbers basically look like their US and Canadian counterparts. But there are a few quirks you need to know about how to call San Miguel, especially if you're dialing a cell phone.
Here's all the information, quirks and rules for how to call Mexico including the area code for San Miguel de Allende and calling codes for Mexico.
There's also detailed information on how to call back home once you get to San Miguel. You'll want to call home often and tell them how wonderful San Miguel is!

BACK from About San Miguel de Allende to Experience San Miguel HOME