The Original San Miguel Shoes
Classic "Combat Cocktail Sandals"
Take on the Cobblestones...and Win!
G reat shoes!" the woman said. "Where'd you get them?"
"These are my San Miguel Shoes," I answered, "and they're worth making a trip to Mexico for."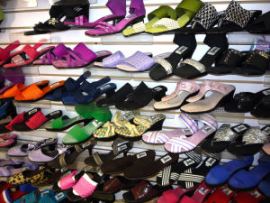 That happened in New York City, in a cafe in Greenwich Village, some 15 years ago. The same thing happened in Portland, Oregon. And at Mt. Rushmore, Yellowstone National Park and Phoenix.
Women everywhere love the way these shoes look. And once they've tried on a pair, they love the way they feel, too. They are the perfect walking sandal.
So What Exactly are San Miguel Shoes?
The short answer is...they're the most comfortable yet still pretty and feminine sandals you've probably ever worn. Fondly known as "Combat Cocktail Sandals" because they're sturdy enough to stand up to San Miguel de Allende's hills and cobblestones and uneven sidewalks but pretty enough to wear to a cocktail party. These are the shoes you'll see everywhere when you're walking around San Miguel.
San Miguel Shoes were invented by a cobbler, Santiago Gallardo Muñiz, and his wife, Martha. Santiago had worked in the Mexican shoe industry in León for 20 years and was ready to strike out on his own in his home town of San Miguel. Martha wanted a shoe that would stand up to the rigors of San Miguel's streets, would support her ankles on the cobblestones and would still look nice on her pretty, petite feet. After some trial and error, what they came up with is a sandal with a sturdy PVC outersole that's practically indestructible, a foam-padded insole, and a soft suede foot bed. The footbed gives a bit as you walk, keeping your feet from tiring.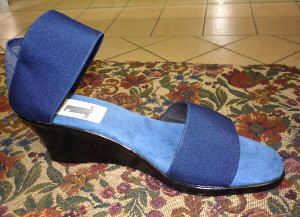 But the real magic is in the wide cotton elastic straps that hug the foot—and especially the ankle. They don't pinch or bind, and they keep your foot stable while walking on uneven surfaces.
I remember the first time I saw a pair. My friend Eva had some red ones. I assumed she'd brought them with her from Portland. But the next day, I saw some blue ones in the Jardín. Then some striped ones at a gallery opening. I asked Eva where she'd got them and the next day I was in the shop.
More elegant than Birkenstocks, not as clunky as Danskos, and certainly prettier than sneakers, you can wear these shoes with jeans and a T-shirt for a stroll through town; put them on when you step out of the hot springs at La Gruta in your bathing suit; or pair them with a chic "little black dress" for a cocktail party or elegant dinner.
Each pair of shoes is still made completely by hand in San Miguel. Santiago is still in the factory, but with the shoes' amazing popularity all over the world, they now have others working with them. Their daughter Paulina runs the business end of the company today. The number of designs has grown hugely beyond that first "combat cocktail sandal," but you'll still find the original San Miguel Shoe in the store, and it's still the most popular style.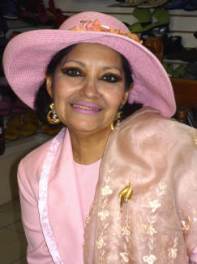 And Martha? Doña Martha stills holds court in one of their shops, usually the one on Relox. Despite her petite size, she is the clear grande dame of San Miguel Shoes. She sits like a queen on her throne, always perfectly dressed, shod and coiffed, her make-up precise and her eyes always framed by a chic, wide-brimmed hat chosen to enhance the outfit of the day. Her smile is beatific and all-encompassing and she is often heard to say, "Aye, que linda!" ("How pretty! How nice!") of anyone and anything in the store.
So Where Can I Buy Some San Miguel Shoes?
The company currently has three stores in San Miguel de Allende where the basic design costs about US$35. If you discover you just have to have another pair after you get home, you can order them online for about US$65 from www.milagrosparati.com, though the selection will not be as good as in San Miguel.
San Miguel stores are located at:
Relox, #27
Mesones, #48
Hidalgo, #23
The factory is located at:
Calzada de la Luz, #48
(415) 154-4702
From the US: (011-52-415) 154-4702

BACK from San Miguel Shoes to Experience San Miguel HOME