The Perfect Weekend
36 Hours in San Miguel de Allende
A
friend recently issued a challenge to me:
If someone was coming to San Miguel de Allende for a weekend, how should they spend their 36 hours in San Miguel? This idea comes from a column in the New York Times that takes readers to cities all over the world for 36 hours—the waking part of one weekend.
I couldn't resist taking on the task, although I can't imagine anyone wanting to limit themselves to such a tiny piece of time in such a rich and wondrous place as San Miguel. There is so much to see and do— and it is so richly tempting to just sit on a bench in the Jardín and do nothing but watch the world do its lovely thing. Still.... the first step in planning the perfect San Miguel weekend is to pick up a copy of Atención, the weekly newspaper, and turn to the "¿Que Pasa?" section. You'll find more things going on than you could possibly fit it.
OK, so "perfect" will vary. But I know what I like. So I set about writing my version of how that perfect weekend visit to San Miguel de Allende would look.

A Perfect Weekend in San Miguel de Allende
FRIDAY, 2 PM
Their private car from the airport delivers them to one of the nicest B&Bs in San Miguel de Allende where they have reserved the most wonderful room—Casa Luna, the Frida Kahlo Suite. After settling in, they have a drink on the upper terrace and look out at the roofs and spires of town. Then they put on comfortable shoes and head out, strolling the few short blocks to the Jardín.
It's Spring, so they enjoy looking up the hillsides at the dozens of big purple puffballs of the jacaranda trees in full bloom. The town band is playing in the kiosk at the center of the square. A few locals dancing to the music urge our friends to join in and they do.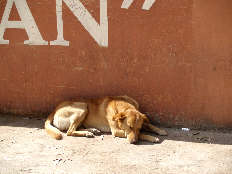 They wander around the square, poking into the shops and galleries under the portales, buy a bunch of fresh flowers and maybe a colorful basket from the vendors there. They walk a few blocks down Calle Relox and step into "Marta" so the female half can pick up a pair of San Miguel shoes—those sexy but sturdy "Combat Cocktail Sandals"—so much more stylish than sneakers and more practical on San Miguel de Allende's cobblestones than high heels.
They pick up a copy of Atención, the local paper, then plop into a chair at one of the outdoor tables at Café del Jardín for a cafe con leche. As they leaf through the "¿Que Pasa?" section of the paper, they drool over all the wonderful lectures, films, concerts, gallery openings and classes they won't have time to enjoy during their brief visit to San Miguel de Allende. They vow to come back for a longer stay, then browse a few of the real estate and rental ads.
5 PM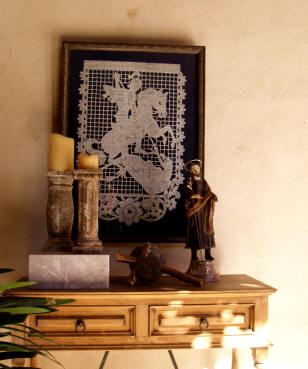 They've noticed two art exhibits are opening tonight, quite nearby, so they set off to see them. At the first, the works feature strands of the artist's very long hair twined into circles against an ink-brushed background that echos her Asian heritage. They sip a glass of wine and fall into easy conversation with another couple studying the artworks, then have a chat with the artist herself. A few blocks away at another gallery, they gaze at huge, amazingly detailed and sensual paintings of flowers. They run into the same friendly couple they met at the last gallery and agree to have dinner together. They quickly learn that this kind of serendipitous meeting is the norm in San Miguel de Allende.
6:30 PM
Since they have tickets to a performance later at the Angela Peralta Theatre—a world-class flamenco dancer is in town—they decide to eat at Nirvana, the Fusion restaurant inside the Hotel Casa Linda, opposite the theatre. The food is fabulous and the atmosphere casually elegant. While there, they can't resist buying several pieces of the extraordinarily beautiful "Mara" ceramics used on the tables.
The flamenco performance is everything they'd hoped for, and they leave the theatre still vibrating to the eery strains of the singer. There's time for a nightcap, so they pop back across the street to Tio Lucas where they get some great jazz with their drinks and have an interesting chat with Max, the owner.
11 PM
A few minutes walk brings them "home" to Casa Luna and their Frida room, and they fall asleep beside the walls of azul anil, a color they will forever after refer to as "Frida blue."
But the weekend has only begun. To continue your perfect weekend, follow the link for the next day of your San Miguel de Allende vacation.


---
So what would YOUR perfect weekend in San Miguel de Allende look like?
We'd love to hear how you'd spend 36 perfect hours in San Miguel. Send us your stories. Include recommendations for hotels, restaurants, activities, or anything else that would make your weekend in San Miguel ideal. We may add them to this section.
To send your submission, go to the perfect weekend in San Miguel de Allende.

Return from 36 Hours in San Miguel de Allende to Experience San Miguel Home