Restaurants in San Miguel:
Ristorante Da Andrea
A 5-Star Meal in a
Colonial Hacienda
S
o what is the very
best
of all the restaurants in San Miguel de Allende? An impossible question, perhaps. There are many fine San Miguel restaurants, all vying for top honors. In fact, the number of truly world-class eateries in town has grown enormously in the last ten years or so.But one definitely stands out.
Ristorante Da Andrea
at Hacienda La Landeta would make anyone's short list—and for many it's the only name on the list.
First, there's the setting. A 15-minute taxi ride from town brings you to a 300-year-old stone colonial hacienda. Located in the hacienda's former stable is the restaurant. With outside dining in good weather, it's a gorgeous and almost impossibly romantic spot.
What's Fresh Today?
Then there's the food—wonderful, subtle, creative Italian food. Go with an open mind about what you want to eat that day, because there's no menu. Chef Andrea Lamberti from Naples varies what he cooks each day, depending on what's fresh and in-season. He sources much of his produce locally and has fish and seafood flown from the coast almost before it has stopped flopping.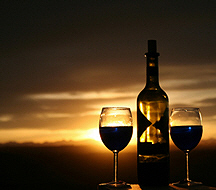 After you're seated, a waiter will recite what's on offer that day, but if none of it strikes precisely the right chord, you can always ask them to cook the fish with a different glaze, grill the veal chops without the rosemary or put a different sauce on the über-fresh, home-made pasta—so fresh, in fact, that you can usually see a woman sitting in a corner of the brick-vaulted dining room hand-rolling it.
One of Chef Andrea's staples is home-made ravioli stuffed with ricotta and spinach and often served with a gorgonzola cheese sauce. Other common and wonderful appetizers are the grilled sardines or the octopus salad.
Entrees always feature wonderful, perfectly cooked fish and seafood—the huachinango (red snapper) is magical. Or the giant shrimp. Or the sea bass. The day's menu might feature grilled quail, veal scallopine, stewed rabbit, or swordfish steaks. Wondering what delights you'll be offeered is part of the adventure at Da Andrea.
For dessert, if you can possibly fit one in after such a lush and lucious meal, ask for the panna cotta or just finish with a perfectly brewed espresso and a long look at the view.
$$$$$
As prices go, this is one of the most expensive restaurants in San Miguel—though far less than you'd pay for a comparable meal in New York or San Francisco and not even in the same stadium as a barely passable meal in London. And you won't know what your bill will be unless you ask. The waiter does not recite prices along with the menu. It is, however, perfectly acceptable to ask the price of a dish before you order.
For a full meal at Da Andrea, expect to spend US$30-45 per person, not including drinks, and worth every peso for such a "destination" meal in what is quite probably the best restaurant in San Miguel de Allende.
Unless the weather is bad, you'll definitely want to sit on the patio enjoying the rioting gardens. Reservations are a must.
Note: Like many businesses in San Miguel de Allende, Da Andrea closes for much of the month of May.
Insiders Tip: If you take a taxi, ask the driver to return in two hours. The fare should be less than $100 pesos each way.
Driving Directions
Take the Salida a Querétaro past the Luciernaga glorietta, then continue to the next glorietta (with the statues of the Niños Heroes). Continue around the glorietta to the road to Doctor Mora. The Hacienda Landeta is about a mile or so farther on. Look for the sign that says "Italian Restaurant, Hacienda La Landeta."
Ristorante Da Andrea - $$$$$
Carr a Dr. Mora Km 7.5
(415) 120-3481
Open Thursday-Saturday, 1-10 pm
Sunday, 1-8 pm
Return from Restaurants San Miguel: Da Andrea to San Miguel Restaurants
BACK to Experience San Miguel HOME