¡Bienvenidos a
San Miguel de Allende!Here's Your Insiders' Guide...
Come fall under the spell of San Miguel de Allende. Come walk her cobblestoned colonial streets, relax in her shade-dappled patios, sink into her slower pace, feel the warmth of her people.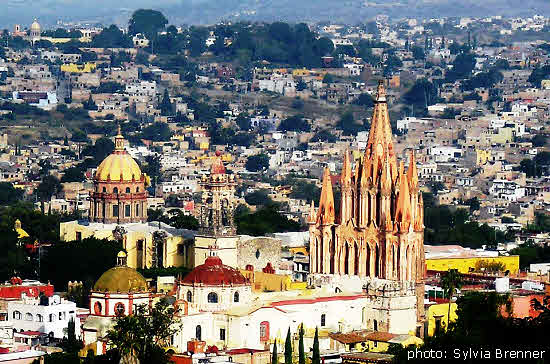 E
veryone who's been there agrees: San Miguel de Allende is a magical place. A colonial jewel tucked into a bowl-shaped hollow in Mexico's central highlands, its rumpled cobblestoned streets are lined with antique buildings painted as many colors as an over-made-up grande dame. Stucco walls drip flame-colored bougainvillea, pale blue plumago, lemony lantana flowers. Carved doors with brass knockers guard the entrances—and the secrets—of beguiling patios, tinkling fountains, lush gardens. But it takes time to convince
San Miguel
to reveal all her secrets. If you're like most visitors, you'll soon be asking: What's behind those beautiful doors and mysterious walls? Are the people as colorful as their buildings? And how can we get a peek inside and experience the
real San Miguel de Allende
? That special insider's look is a whole lot easier when you know a local who's already broken the code and learned the secret route into the heart of this intriguing town... someone willing to take you by the hand and help you really
experience
San Miguel de Allende. Welcome inside
my
San Miguel. I first arrived in
San Miguel de Allende
in December, 1989. The bus bringing me from Mexico City turned onto the "caracol," the peripheral road that curves above the town and offers a breath-catching view. As I looked down onto a town I had never seen before, I felt something stop inside me and I went very still. Then I turned to my traveling companion and spoke words I have never forgotten.
"I don't understand this," I said, "but I'm home."
That feeling of rightness has never left me. To me, San Miguel is the essence of "home." And I love sharing that love and excitement with others.
| | | |
| --- | --- | --- |
| | Whether you're planning a short vacation to San Miguel de Allende, or a longer stay—maybe forever—this website's for you. | |
Visiting?
Here's all the information you need to plan a perfect stay, rich in experiences you might have missed without our insider knowledge. Who else will lead you not only to the best hotels and restaurants but also tell you where to have a hand-embroidered "retablo" made in your very own likeness? Or steer you to the hole-in-the-wall spot where you can experience your own, unique "Mexican moment?"
Moving to San Miguel?
If you want to join the thousands of ex-pat Americans, Canadians and Europeans who call San Miguel home, we've got you covered too. We'll point you to the best gym, Spanish class or carpenter, introduce you to real estate agents and artists, even tell you where to find the best prices on everything from furniture to pharmaceuticals. And who else knows—and tells you—where to order slip covers for the sofa your cat just shredded? We'll help you shave months or years off the learning curve of settling into your new community and country. San Miguel de Allende seduced me from the first day I arrived and it has never let go. Will you love San Miguel as much as I do? Come see. Experience
San Miguel de Allende
for yourself. One visit might be all it takes for you too.
This website is a dynamic thing. It's constantly growing, evolving, and being updated as new information becomes available. Please come back often to see what's new. Or subscribe to SMAtterings, our newsletter, and you'll be the first to know.
Inside San Miguel...The Blog keeps you up-to-date with additions and changes to experience-san-miguel-de-allende.com plus sends short news items about San Miguel de Allende. Subscribe here.
<b>SMA</b>tterings is the newsletter about "What Matters in San Miguel de Allende." Subscribe for free here...
Some fast facts to answer your first questions about San Miguel de Allende—like where is San Miguel, what's the weather like, how do I get there, stuff you need to know....
In San Miguel de Allende, the central plaza is where everything happens. Read about El Jardin, San Miguel de Allende's heart...
The best art school in San Miguel de Allende is Bellas Artes, the Centro Cultural de Bellas
Only 7 miles from San Miguel de Allende, the Sanctuary of Atotonilco is a cornucopia of frescoes, gilded altars and
Traveling to San Miguel de Allende, Mexico, is not hard. Here are some tips on travel to Mexico that will get you there...
Some ideas, tips and tricks to help you find a cheap Mexico flight for your next vacation...
In this complete San Miguel de Allende Hotels Directory you're sure to find the ideal hotel for your visit to San Miguel de Allende...
For the young, and young at heart, there are several inexpensive hostels in San Miguel de Allende...
There is certainly no reason to go hungry in San Miguel de Allende. There are dozens of San Miguel restaurants for every taste and every budget. Here are some of the best...
New restaurants have been opening in San Miguel de Allende at an amazing rate. This page will keep you up to date on the newest and best restaurants in San Miguel...
San Miguel Shoes are the original "combat cocktail sandals" from San Miguel de Allende, Mexico. Designed for walking on cobblestones, they're comfortable, durable, stabilizing and pretty.
There's always something fun going on in San Miguel de Allende. The San Miguel annual events calendar rewards a visit at any time of year...
More and more San Miguel Videos and movies about San Mgiuel de Allende are showing up on the scene. Here's info about a few of the best...
Talk about Art in Mexico and you end up talking about Art in San Miguel. Here are profiles of some featured San Miguel artists...
A common myth is that foreigners can't buy real estate in Mexico. They can and do...every day. Here's how they do it...
You want to write. We're here to help you. Teaching craft and style, motivation and direction for your writing. It's what we do. And at Writers Workshop: San Miguel, we do it well.
San Miguel de Allende is a great place to learn to speak Spanish. Several Spanish Language Schools in San Miguel will have you <i>hablando espanol</i> in no time....
In the many cooking classes in San Miguel de Allende, you can learn to cook classic Mexican dishes and have fun doing it...and eating them!
In San Miguel de Allende, cooking school vacations are a great way to get in touch with the local culture. Here's where to find them....
If you love cooking real Mexican food, you'll want the authentic Mexican recipe for your favorite dish. Here's a great collection...
Here's an authentic atole recipe for the delicious and traditional Mexican hot drink made with cornstarch or masa. Yum...
For retirees who want to make Mexico their permanent home, the INAPAM card offers serious senior discounts in San Miguel de Allende and elsewhere...
With your membership card to the VIP Club of San Miguel de Allende, you can save up to 20%of you bill at all the best restaurants in town...
You have a weekend, 36 hours to spend in San Miguel de Allende. Here's a perfect two days in this Mexican paradise...
Here in the Love San Miguel Shop you can find specially designed San Miguel de Allende T-shirts, dog t-shirts, tote bags, gifts and more...
What do <b>you</b> want to know about San Miguel de Allende? Here's your chance to tell us what to do next...
Use this page to contact us with questions, suggestions, ideas, whatever...
This page gives the complete privcay policy and disclosure information for this site...
Who I am... and why I built a website about San Miguel de Allende...
This page archives past posts and photographs from the Inside San Miguel Blog
Here's a traditional and authentic Capirotada Recipe for the Mexican bread pudidng dessert served during Lent...