The INAPAM Card
How to Retire in Mexico
and Save Money
O ver 60? Planning to retire to Mexico? Then you need to know about the INAPAM card. This little piece of laminated pasteboard is your passport to a long list of retirement benefits in Mexico, including in San Miguel de Allende.
For many people planning to retire in Mexico, lower costs of living are a major factor. But the difference between prices in Mexico and the U.S. or Canada are shrinking. Unfortunately, Mexico is catching up fast. So it's doubly important to save money wherever you can.
You may have grown used to being offered Senior Discounts North of the Border. Maybe, like me, you embrace them with the thought that there really has to be some benefit to getting this old.
If that sounds like you, you will love the INAPAM card, part of a program by the Mexican federal government designed to enhance the quality of life for senior citizens. Formerly known as the INSEN card, it offers serious retirement benefits in Mexico for all legal residents—Mexican and foreign—over the age of 60.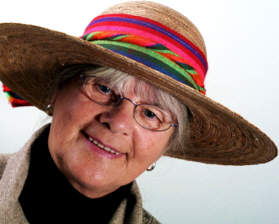 The word INAPAM stands for Instituto Nacional de las Personas Adultas Mayores, a federal program administered locally by DIF (Desarrollo Integrál de la Familia) In the past, the card was generally issued only to Mexican citizens and foreigners holding an FM-2 immigrant visa. In the last year or so, the rules have officially been changed. Now, foreigners holding an FM-3 can get this magic discount card. If your local office says you need an FM-2, suggest politely that they call the federal office and enquire into the law. That has worked for some foreigners living in the Guadalajara and Jalisco areas. (If you already have an INSEN card, it may still work, but you'll be well served to replace it with the newer version.)
What the INAPAM Card Can Do
So, assuming you're over 60 and have an FM-3 (or plan to get one when you retire to Mexico), what can the INAPAM card do for you? More than you would imagine. From shops to restaurants, bus lines to basic services, it can save you money. The longest list of businesse honoring the card is, naturally, in Mexico City, but senior discounts in San Miguel and elsewhere can still run from 5-50% on all sorts of goods and services. Sometimes, your card will even get you in free.
Take a look at some of the discounts you can expect to be given with a smile:
50% off on inter-city bus travel (though some lines limit the number of senior seats to two)
50% off on city buses
Free or reduced entrance to museums and archaeological sites
A discount on property taxes after an inspection
A discount on your water bill
Discounts at many, many stores—some offices will give you a booklet listing them when you apply for the card. The discounts tend to run 5-15%.
Discounts in some pharmacies—usually 5-10%
Discounts of 25-50% on tickets to such high-value events as the Festival Cervantino, the Jalisco Symphony and concerts at Bellas Artes in Mexico City
Discounts at some movie theaters
Discounts—usually about 10%—at many restaurants, including some well-known Mexican chains like VIP's and El Porton. You should ask at every restaurant
Steep cuts at some hotels, including the Real de Minas and Misión de los Angeles in San Miguel de Allende and some beautiful resorts in Puerto Vallarta and Cancún.
According to the INAPAM website, many clinics, labs and hospitals also take part in the program. Some dentists honor it and it sometimes works when getting eyeglasses. The official list even includes preferential treatment in government offices that offer services to the public.
The list is long and this one is not complete as new businesses and services are added regularly. Always show your card and ask for your senior discounts in San Miguel stores and other businesses.
So how can you get this magical passkey to savings? In San Miguel de Allende, it's easy, remarkably so if you're used to the endless red tape and long waits usually associated with doing anything "official" in Mexico. How to get your INAPAM Card will walk you through the whole routine that leads you to these remarkable senior discounts available to you when you retire in Mexico.



Go from INAPAM card: Benefits to INAPAM card: How To Get It

BACK to Experience San Miguel de Allende HOME