Atole Recipe—the Authentic One!
A Traditional Hot Mexican Corn Drink—
For Holidays or Anytime
O n a chilly morning or evening, this authentic atole recipe will let you whip up a traditional hot Mexican drink that will warm your body and cheer your soul. This is good stuff.
A steaming cup of Mexican "atole" for Christmas or Candelaria—or any time.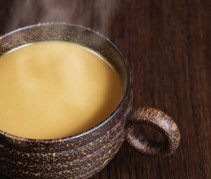 Atole has a really long history. The name comes from the Nahuatl (Aztec) word atolli, and like so many foods in Mexico and throughout the Americas, it's based on corn. Sometimes it's made with cornstarch, but the more traditional versions, like this one, use masa, the same cornmeal dough used to make tortillas and tamales.
In San Miguel de Allende, you'll often see corner vendors in the evening, ladling it out of a huge pot sitting on a gas burner, serving it up with steaming tamales.
Atole should always be creamy with no lumps, but it can be as thick as porridge, a kind of gruel-like consistency, or thinned down to slightly thicker than hot chocolate. I always think of it as something akin to drinking hot, slightly runny pudding. It's popular at all times of the year and any time of day. In fact, it's often drunk as a complete breakfast.
But the most traditional times to serve atole is on several Mexican holidays. It's always seen as part of the best ofrendas, or altars, for Day of the Dead. It's served to the pilgrims knocking at the door during the Christmas posadas. It's also part of the family party held on Candelaria on February 2nd. Tradition says that whoever got the slice of Rosca de Reyes with the baby in it on January 6th (Epiphany/Three Kings Day), has to host the Candelaria party and provide tamales and atole.
Variations include chocolate atole, called champurrado, fruit atole, especially pineapple or strawberry, or atole de piñones, made with ground pine nuts.
Atole Recipe
Serves: 5-6
Ingredients:
1/2 cup masa harina (masa flour)
5 cups milk or water, according to taste
1/4 cup piloncillo, (Mexican sugar cones) chopped fine or grated
1 stick cinnamon (canela) or 1/4 teaspoon ground cinnamon
1 vanilla bean (split lengthwise) or 2 teaspoons vanilla extract

Preparation:
In a large saucepan, whisk the water or milk into the masa flour little by little until completely mixed and free of lumps. Heat over meadium heat, stirring constantly, until it just begins to thicken. Add piloncillo and cinnamon stick or ground cinnamon. Scrape seeds from vanila bean into pan or add vanilla extract. Stir vigorously until sugar is dissolved, then bring to a boil, stirring constantly to keep it from becoming lumpy.
Remove cinnamon stick. Serve hot in mugs.
Variations: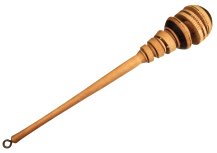 Champurrado (chocolate atole): This is what's usually served at the Christmas posadas. After removing from the heat, stir in one tablet Mexican chocolate (approx. 3 oz.), chopped. Stir until completely melted and blended, then whisk until frothy. Traditional Mexican cooks will use a molinillo, a carved wooden whisk, to beat it. Put the carved end of themolinillo into the pot, place your hands flat on the sides and rub your hands briskly back and forth, making the molinillo spin to froth the atole.
Fruit Atole: Omit the cinnamon. After removing from heat, blend in coarsely pureed fruit, such as pineapple or strawberries.
Substitutions:
If you can't find piloncillo, the Mexican sugar cones of dark brown sugar, substitute 1/4 C. brown sugar. For a more authentic flavor, add 2 Tablespoons molasses.
For this atole recipe, you can use either water or milk, mix half of each, or use half water and half evaporated milk.
Make this delicious atole recipe any time you're craving a warming treat, something both sweet and substantial, or a taste of the Mexican holidays.
Return from Atole to Authentic Mexican Recipe Collection
BACK to Experience San Miguel de Allende Home Page