San Miguel Restaurants:
Café San Agustín
Your Sweet Tooth Will Thank You
T
here are many San Miguel restaurants where you can indulge your sweet tooth. So which one do I pick when a craving hits? Easy. I head to
Café San Agustín
on Calle San Francisco for a plate of
Churros con Chocolate.
If you've never had
churros
be prepared to be spoiled forever for plain old donuts.
Café San Agustín is perhaps best known among Mexicans for its owner, Argentine actress Margarita Gralia. She is hugely popular in Mexico for her performances in telenovelas (Mexican soap operas) as well as stage plays and an appearance in the Spanish-language edition of Playboy.
But it's really the churros that pack people in.
A churro is basically a long roll of sweetened dough, extruded through a fluted tube into hot oil and deep fried. It is then drenched in sugar—and sometimes cinnamon—and served hot, traditionally with hot chocolate. This rich pastry was born in Spain, but Mexicans took it as their own long ago.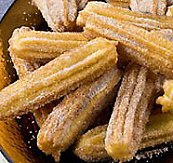 At Café San Agustín they serve three kinds of churros: Mexican, the sweetest, served with cinnamon sugar; French, which are not quite so sweet; and Spanish, the least sweet of all. You can order them alone or with coffee, but hey, you're indulging. Why not be traditional and go all the way? Order a steaming cup of hot chocolate and it will come with three churros, fresh, hot and ready for dunking. The chocolate also comes in three styles with varying degrees of sweetness. The Mexican is closest to what you're probably used to. The Spanish style is dark, thick, almost bittersweet. It's a great way to start your day...or end it. Café San Agustín opens early and stays open late.
A plate of three churros with chocolate will run you a little over US$3. And if you don't think this is so good it's practically holy, just gaze up at the painting on the wall in the ornate gold frame. It shows a monk with a round-faced cherub beside him, serving him... a cup of chocolate.
Insiders' Tip: If possible, grab the table farthest from the door at the open window. It has a lovely view of the facade of the San Francisco church across the street.
Not Just For Churros
But this San Miguel restaurant is not just for churros. The empanadas, with various fillings, are delicious, with a nice flaky crust. The enchiladas suizas have a pleasant tang to the salsa. And the tortilla soup—one of my favorite Mexican lunch dishes—is some of the best I've had in San Miguel, with a rich broth so thick it's almost creamy and loaded with chunks of avocado and cheese.
And since Margarita Gralia is Argentinian, the menu also features a range of tapas. Order a couple with a glass of wine for a fine mid-afternoon pick-me-up or a late-night snack.
This popular San Miguel restaurant is set in a 19th-century townhouse and the room is lovely and inviting. The high, beamed ceiling is hung all over with baskets of all shapes, sizes and colors. Wide windows open to the street and a view of the beautiful San Francisco church across the little plaza. If you're not familiar with Margarita Gralia, you soon will be. One wall is plastered with photos of the actress, onstage, on film, or with other stars.
Margarita Gralia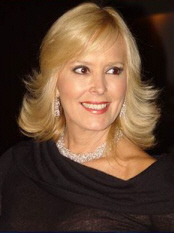 The room feels like a classic Mexican coffee house, the kind you can still find in the historic
centro
of Mexico City. The last time I was there, Margarita Gralia herself was on hand, working the room like the pro she is, meeting customers, cruising the tables, signing autographs for hopeful young Mexican girls.
Insiders' Tip: Try not to hit this place on a weekend, especially any holiday that brings lots of Mexican tourists to San Miguel. Because of Margarita Gralia's name and fame, it draws huge crowds of Mexicans when they're in town. Lines often snake out the door and halfway down the block.
Café San Agustín - $$
San Francisco #21
(415) 154-9102
8 am-11 pm Mon-Thur. 9 am - Midnight Friday & Saturday


Return from San Miguel Restaurants Cafe San Agustin to Best San Miguel Restaurants

BACK to Experience San Miguel HOME