Church Services in
San Miguel de Allende
Feeding the Soul with the Many Religious Meetings in San Miguel in English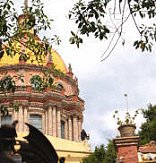 T here are Religious Meetings and Church Services in San Miguel de Allende to meet the needs of most travelers and expatriate residents, as well as the local Mexican population. Religious meetings in San Miguel cover the gamut from the expected Catholic services to Baha'i, Episcopal, Jehovah's Witness, Jewish, Latter Day Saints (Mormon) and many other denominations and belief systems. There are many English language church services in San Miguel de Allende.
Religious Meetings and Church Services in San Miguel de Allende
Note: This information was current at the time of writing. Always call to confirm details of time, place and location.
Baha'i
Fridays 8 p.m. Interfaith Meeting & Discussion
Saturdays 11 am
children classes, 7 pm
inter-religious devotional 8 pm
Tel: 154-0097, 154-5988, 154-7569
Email: bahaisanmiguel@yahoo.com.mx
Amistad Christian Church
Heroes Nacozari #32
Col. Luis Donaldo Colosio
Sunday, 9 am - Bi-lingual service
Tel: 120-3994 (Gloria)
Baptist
Iglesia Bautista, Culto de Predicación
Cielito Lindo at Esparza Oteo
Col. Guadalupe
Sundays, 9 am - Sunday School (Spanish)
10:30 am - Service (Spanish)
5 pm - Service (English)
7 pm - Service (Spanish)
Catholic
English Mass
La Concepción (Las Monjas)
Canal & Hernández Macías
Sunday, 10:00 am
Spanish Masses
Parroquia
Sunday, Hourly 6 am-1 pm and 6 & 8:15 pm

Santa Escuela de Cristo
Sunday, 9 am Sunday

San Antonio de Padua
Sunday, 7 & 8 am, 1,6 & 8 pm
Daily, 8 am, 8 pm

Charismatic Christian
La Gracia 10, Barrio de La Aldea
Tuesdays, 6 pm
Tel: 152-0919
A Course in Miracles
Joanna Reichel
Call for Schedule
Cell: 044-415-153-3132
Christian Science
Callejon de Pilancon 18
Tel: 152-3760
Sunday, 10 am - Service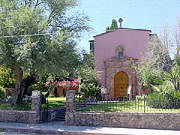 Episcopal/Anglican
St. Paul's Church
Calle Cardo 5
Tel: 152-0387
Sunday, 9 am - Holy Eucharist (Communion)
10:30 am - Choral Holy Eucharist
12 noon - Eucharist in Spanish
Wednesday, 9:30 am - Holy Eucharist
Friday, 9 am - Breakfast at Café la Parroquia, Jesús 11
Saturday, 11 am - Adult Bible Study
House Church-Restoration of Life
Info & Location: 154-0000
Monday and Tuesday, 6:00 pm
Iglesia de Cristo (Church of Christ)
Niños Héroes 1
Col. Independencia
Tel: 152-2030
Sunday, 10:30 am - Service (Spanish)
Thursday, 7:30 pm - Oración (Prayer Service - Spanish)
Jehovah's Witness
Pila Seca 31
Tel: 152-1893
Monday, 7 pm - Ministry Schools
Tuesday, 4 pm - Book Study
Saturday, 4 pm - Discourse and Bible Study
Jewish/Shalom SMA
TV room of Hotel Quinta Loreto
Loreto 15
Tel: 152-2659, 154-6761
Saturday, 9:15 am - Traditional Minyan
10:20 am - Torah Service (in English)
11:15 - Torah Study
Monday, 10:30 am - Talmud Study
Call for information on other services, The Jewish Forum, Sharing Shabbat, holidays, etc.
Meditation Center
Callejon Blanco 4
Tel: 152-7016, 152-0536
www.meditationsma.org
Monday-Friday, 8-9:30 am - Morning Meditation
Saturday, 10-10:40 am - Meditation
Mormon (Latter Day Saints)
Salud 4
Barrio La Aldea
Sundays, 9 & 11 am - Noon Service
10:15 am - Sunday School
Non-Denominational
Held at the First Baptist Church
Tel: 152-0419
Sunday, 5 pm - Sunday Service in English
Quaker
Órganos 7-A
Tel: 152-6533
2nd and 4th Sundays, 10:30 am - Unprogrammed Worship
Restoration Center
Vicente Suárez 48
Col. Independencia
Sundays, 10 am - Service
Tel: 154-0000
Monday & Tuesday, 6 pm - Service/Meeting
San Miguel Christian Fellowship
Meditation Center
Callejon Blanco 4
Tel: 120-8180
Saturday, 4 pm - Non-denominational worship & study
Sufi
Warren Hardy School
San Antonio Abad 13 (blue door)
Info: 152-7923 (Christel)
Changing services - Call for info
Unitarian-Universalist Fellowship
Posada de la Aldea
Ancha de San Antonio 15
Tel: 155-8014
Sunday, 10:30 am - Sunday Service
Friends of Unity
Café Etc
Reloj 37
Thursday, 10:30-11:30 am - Prayer Meeting & Discussion
Unity in Diversity
Café Etc
Reloj 37
Info: 152-4606
Tuesday, 10 am-12:30 pm - Philosophy for Everyday Living with Rev Nancy Anderson
Thursday, 2-3:30 pm - Wise Actions Group
3rd Friday, 12:30-2 pm - InterSpirituality Meeting
When looking for religious meetings and church services in San Miguel, always call ahead for exact details.

Return from Church Services in San Miguel to About San Miguel

BACK to Experience San Miguel HOME