World-Class Restaurant & Chef--Andanza!
by BabsofSanMiguel
(San Miguel)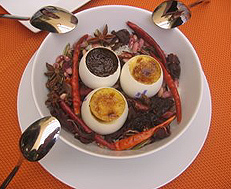 The creme brulée at Andanza, Casa de Sierra Nevada,
Is this the best restaurant in San Miguel de Allende?


For all of those who have complained that San Miguel did not have a world-class restaurant or talented chef, go to Andanza! I, a "foodie," and two friends, the Editor and Publisher of "My Table" magazine and her significant other, dined there for lunch. What an unexpected and delicious surprise. We all agreed at the conclusion of the meal that it could meet or surpass any of the finest restaurants we had all dined at throughout the world--that's saying something!
At Andanze, the service was attentive, but not overly so, with a knowledgeable staff to discuss the items and the preparation--a rarity. The menu was very zealous and creative--a tasting menu which allowed you to have "little bites" of many things. WOW!
Some of the items tried by our trio were Cuitlacoche Cappuccino with truffle foam; shrimp cake, seafood chilpachole and guarnicia chile confit; barbacoa ravioli, chicken broth, grilled spring onions and cherry tomatoes; and grilled venison, with ancho chile chutney served on hoja santa with guava margarita. DOUBLE WOW!
The presentation in San Miguel restaurants can sometimes be haphazard, but each of these dishes was breathtaking--a "feast" for the eyes. When Cameron's venison came with the guava margarita, the waiter suggested he drink the guava first as that would enhance the venison flavor. It did. The fusion of flavors was exquisite!
This was a leisurely meal. I
love the Mexican way of savoring the experience! When the waiter came with the dessert menu, we almost didn't order anything. So HAPPY we did! Two desserts were ordered and we squealed (quietly) over the presentation of the creme brulée tastings as seen above. Served in eggshells in a bed of dried beans and red chiles, the composition and coloring was a delightful surprise. Tres leche cake was okay, but not the best.
Of course we HAD to ask to meet the Andanza chef! Gonzalo Martinez joined us for about 30 minutes of conversation at our table. What an interesting, talented young (32) man. He worked at the Adolphus Hotel in Dallas as well as Windsor Court in New Orleans, to name a few. After Katrina hit, he was searching for a place to go, and the Orient Express Hotel group had heard of him and seen his work and VOILA! He was able to "come home" to San Miguel de Allende. What a coup for us.
The Orient Express bought a large percentage interest in the Sierra Nevada Hotel here--I think 70%--and has embarked on a renovation and upgrade program for the last year or two. The Sierra Nevada in San Miguel de Allende is a 5-star hotel.
So go, be dazzled and "buen provecho!"
Price range - $$$$$
Hospicio No. 42
San Miguel de Allende
Tel: +52 (415) 152-70-40
Toll-free from US: 1-800 701 1561
Email: mail@casadesierranevada.com