The Restaurant at Sollano 16
by Jean Stoltzfus - August, 2008
(San Miguel de Allende)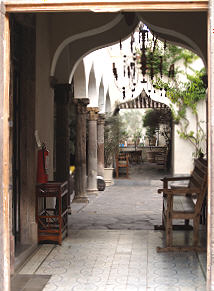 Entry to The Restaurant, Sollano 16, San Miguel de Allende
San Miguel's newest restaurant is called, plainly enough,The Restaurant. My husband and I went twice recently and were very impressed. Wonderful, inventive food beautifully presented; nice portions; professional service. Another fine San Miguel restaurant.


Seating is in a beautiful courtyard surrounded by Moorish arches and covered by a retractable glass roof. There's also an indoor area that will be open later. The walls are a sumptuous red and the ceiling is triple vaulted. There's a beautiful bar in the back.
The chef, Donnie Masterton, is the real deal. He trained in one of NY's most famous restaurants, Montrachet, and has gone on to work in different restaurants in NY and California as executive chef.
The Restaurant has sourced all kinds of meat, cheese, produce "organic and otherwise" from local growers in the campo. And Masterton makes the best of them.
My favorite dishes at The Restaurant at Sollano 16 were: a stunning chilled curried cauliflower soup, a salad made of beets, goat cheese and pistachios, also a roast pork loin with a jalapeño honey glaze. Wonderful deserts too, like a lovely panna cotta and caramel chocolate tart.
The Reataurant at Sollano 16 is, I believe, at the level you would find in NYC or San Francisco, and to me, it's so refreshing to have a place like this in San Miguel de Allende where you can bring foodies or city folk with very high expectations.
OK, as far as price. For 4 of us on a Saturday, with 4 appetizers, 4 entrees, 4 desserts and 2 bottles of wine, the price with tip was US$235. So obviously it's not cheap, but that was a lot of food and drink for about US$55 a person.
The Restaurant at Sollano 16. One of the best restaurants in San Miguel de Allende.
Editors' Note:
The Restaurant oftens fills up so reservations are highly recommended. Call (415) 154-7877.
Open for dinner only, 6-10 pm, Tuesday thru Saturday. Closed Sunday and Monday.