Caring Service & Wonderful Food at El Sazon
by Michael Yanoff
(San Miguel de Allende )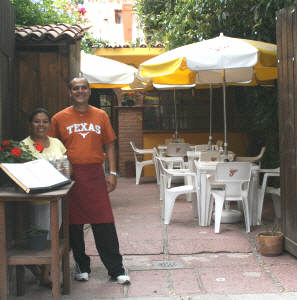 Adrian and Cindy, owners of El Sazon Restaurante
Three times now I have gone to El Sazon Restaurante, once alone and twice with friends. The restaurant is located at 25 Prolongation Refugio (parallel to Refugio, in Colonia San Antonio). The owners, Adrian and his wife Cindy, are bi-lingual. It is a wonderful restaurant in San Miguel de Allende


On my first visit, I had the 40 peso breakfast that included fresh orange juice, coffee, a small dish of fruit (papaya), delicious rolls with tasty marmalade and a scrumptious cheese and ham omelet. Of course there were several other breakfast items available.
The second time, I ordered ribs and they were also delicious. I offered my friend and her 7-year-old daughter a sample, but when the daughter asked for another, I gathered up my courage and said "sorry." My friend ordered the quail and was also very pleased. We both had a hard time saving room for our main courses as the tortilla chips and salsa were so good. While working on our third helping of chips, we were saved by the arrival of the main course. My friend, a native of San Miguel, raved about the freshly prepared
pico de gallo
and the Mexican rice. My only complaint was I was too full to finish my baked potato.
On my second trip with a friend from Brazil, we both ordered the New York Steak. His came with charro beans plus I forget what else. I ordered mine with a salad and baked potato. We ordered a pitcher of
limonada
made with mineral water and fresh limes. Again we both had the problem of trying not to fill up on the tortilla chips and salsa. Even some garlic bread appeared. Both of us were delighted with the taste (nicely spiced) and tenderness of the steaks as
well as the freshly prepared sides, including a delicate ranch dressing for the salad and chives and cream sauce for the large potato.
On each visit, the meal for two came to a little more than 200 pesos including drinks (the one child ate from our plates).
Now here's the important thing:
Adrian gained much of his training in restaurants in Texas and was very attentive and accommodating. When we asked for different side orders than those listed on the menu,
"no problema."
He noticed when the chips and/or salsa were getting low. When my friend wanted his steak a bit more brown,
"No problema."
Service was excellent. (Also I must add that Adrian came rushing after me to give me my change from a 500 peso bill I forgot I had left. Not that I am rich, it is just that living in Mexico has brought so much joy and happiness to my life, it is tough for me to stay grounded.)
Cindy's mom and dad own the wonderful fish and seafood restaurant,
Mariscolandia,
just across the street, and service back and forth between the two is common. If someone in your group wants to order a surf meal and another a turf, Adrian will be happy to arrange it. Negro Modelo? "One minute please, my father-in-law carries that brand."
For great service and food, try El Sazon Restaurant in San Miguel de Allende.
As a side note: Cindy, Adrian's wife, is also a massage therapist doing Swedish massage that includes hot stones, foot reflexology, aromatherapy, and music, all for only 350 pesos an hour. Call the restaurant if you'd like to make an appointment.
El Sazon
25 Prolongation Refugio
Col. San Antonio
San Miguel de Allende
Open Mon thru Sat
8 am to 9 pm
tel: 415-154-7712