Your San Miguel de Allende Vacation
Spend a Perfect 36 Hours in San Miguel
I
t would be a shame to limit any San Miguel de Allende vacation to just one weekend, but...if that's all you've got, you can still have a wonderful time. In just one weekend, you can pack in a whole bunch of activities, experiences, adventures... and even some relaxing. You can have the perfect San Miguel weekend.
There are a whole lot of different ways to structure a great short San Miguel de Allende vacation. Some people might spend the whole weekend just walking around, looking at the beautiful churches and colonial homes, reading about the history of San Miguel as they go along. Others might want to have some more formal activity scheduled for every hour.
Here's mine. This article outlines my idea of a perfect 36 hours in San Miguel. This page is Part Two of that adventure. To begin the weekend, go first to 36 hours in San Miguel. Read about our travelers' perfect Day One. Then follow the links on that page back here to continue your adventure.
SATURDAY, 5 AM
It's barely dawn when the alarm sounds to begin Day 2 of their San Miguel de Allende vacation. Minutes later a van picks them up and takes them to meet Jay Kimball. They are going for a balloon ride over San Miguel. The launch takes place just outside town. They watch Jay and his crew inflate the giant globe, then climb in the wicker gondola and float off towards the Parroquia. The morning air is soft, the sky turning from deep purple to salmon pink to a piercing blue as the sun rises in the sky. Since they are moving with the wind, there is no sense of movement. They feel as if they are suspended from a cloud while the church and Jardín float by below them. After seeing San Miguel de Allende as the birds do, they land to a champagne toast.
9 AM
Jay takes them to breakfast at Mama Mia's—which they learn has been a must-stop for visitors to San Miguel for decades—then walk 10 minutes to the Instituto Allende, where one of the periodic craft fairs is going on.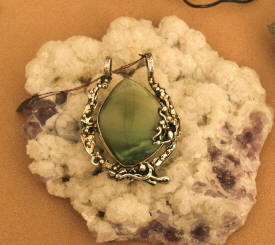 Wandering from table to table, they pick up some beautiful hand-crafted silver jewelry by local artist David Godinez, a weaving from Oaxaca, an exquisitely hand-crafted journal, and some primitive embroidered pillow covers hand-stitched by a woman from the campo. One of the vendors reminds them to walk to the Instituto's back terrace for the not-to-be-missed view of the Parroquia.
These periodic crafts fairs are held several times a year and are always a highlight of any San Mgiuel de Allende vacation.
Leaving the Instituto Allende, they wander farther up the Ancha de San Antonio in search of the wonderful tamales they've been told they'll find there. Ummm, they're as good as promised.
1 PM
They love to shop and they love art and antiques, so they hop in a taxi and ride a few minutes to Fabrica Aurora, a remodeled textile factory, where they can wander through some 35 shops, art studios and galleries. The complex is just five years old and is already one of the nicest and most popular places stops on every San Miguel de Allende vacation. They find a 100-year-old Vietnamese kitchen cabinet and a hand-painted armoire from Chiapas and arrange to have them shipped home. They buy a bronze sculpture by Rita Torlen, a painting my Merry Calderoni, and some vivid textiles from Patzcuaro. They have lunch at the outdoor cafe while watching the birds beg for crumbs.
3 PM
They taxi back to their hotel with their purchases. After an afternoon coffee ont he terrace, the fall right into the Mexican way of doing things and decide to have a "siesta."
5 PM
Refreshed from their nap and ready to continue their San Miguel de Allende vacation, they wander back to the Jardín. They've already come to realize it's everyone's front yard, the very heart and soul of San Miguel de Allende. Although they'd noticed lots of ex-pats and other foreigners here in the morning, now there are only a few. They hear almost no English.
Kids are running around being kids. Teenagers walk in circles eyeing each other, the girls giggling, the boys practicing their first attempts at swaggering. Young lovers moon at each other. Balloon sellers sell balloons while the elote vendors serve up their ears of hot corn with crema, cheese and chile powder. Beside the church, the giant draft horse stands patiently beside his ice cream cart while tourists pose for pictures beside him. The shoeshine guys are doing a brisk business, slapping their brushes and rags and chatting up their customers. Abuelas sit on the benches under the laurel trees, gossiping and keeping an eye on the kids. Dogs doze in the sun. Tourist's cameras snap dozens of photos of the Parroquia, the lovely neo-gothic church glowing pink in the late afternoon sun. It is San Miguel de Allende at its best.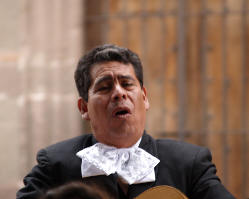 Behind our travelers, the mariachis strike up a number. They recognize the standard "Cielito Lindo" and hum along. The next number, unknown to them, is a classic lament that proves no one can sing and cry at the same time better than a Mexican!
6:30 PM
As the sun sinks low in the sky, turning the Parroquia to peach, then fuschia, then a deep rich rose, they go in search of a taxi. There's a full moon tonight, and their new San Miguel friends have invited them to the regular full moon ceremony at the Plaza of the Four Winds at "El Charco del Ingenio," the botanical garden at the edge of town. The garden is another of the treasures of San Miguel de Allende. They arrive in time to watch the sun set in a sea of flame falling into the lake, and the moon rise huge and full. Several regulars have brought musical instruments—a flute, a conch shell, some drums—and they sing the moon up into the heavens. It is a purely magical, purely Mexican moment.
8 PM
By the time the ceremony ends, they're starving, and tonight they don't want "gourmet international cuisine;" they want authentic Mexican fare. With several new acquaintances from the evening, they head to Restaurant Olé Olé on Loreto. They step in the door of the restaurant and drop their jaws at the decor. Red, red, red, and bulls, bulls bulls. The owner is a true aficionado of the Fiesta Brava, or bull ring. The red walls are almost completely covered with posters, matador photos, picador sticks, a "suit of lights" and at least four huge stuffed bull heads.
The limited menu makes ordering easy. They choose a mix of fajitas—shrimp, chicken, beef and... ostrich. Yummm.
10 PM
It's the last night of their San Miguel de Allende vacation, and our friends want to continue the authentic atmosphere. The whole group heads to Mama Mia for some live salsa music and dancing, their sexy, sinuous moves helped along with a shot or two of tequila. Luckily, it's just a short walk home!
They have packed a lot of activity, fun and charm into the first two days of their San Miguel de Allende vacation. But it's still not over. Click the link for the rest of their perfect vacation in Mexico


---
So what would YOUR perfect short San Miguel de Allende vacation look like?
We'd love to hear how you'd spend 36 perfect hours in San Miguel. Send us your stories. Include recommendations for hotels, restaurants, activities, or anything else that would make your weekend in San Miguel ideal. We may add them to this section.
To send your submission, go to the perfect weekend in San Miguel de Allende.



Return from San Miguel de Allende Vacation to Experience San Miguel HOME