A Tres Leches Cake Recipe
Sweet Decadence from
the Heart of Mexico
Y ou'll find Tres Leches Cake—"Three Milk Cake"— on the dessert menu of most restaurants in San Miguel de Allende that serve authentic local foods. This rich, drippy-moist and sweetly delicious Mexican cake is as authentic as it gets. Actually, it is popular not just in Mexico but throughout Latin America.

Pastel de Tres Leches takes its name from the combination of three milks—evaporated milk, sweetened evaporated milk, and heavy cream—that are poured over the warm cake and allowed to soak in. The result is extra moist and sweet without being mushy or cloying.
No one seems to know exactly where and when it was first created. some say Nicaragua, others Mexico. Or maybe it was Cuba. But mose people claim it was actually originated by the Nestle Company. Apparently, they put the recipe on the can labels for their evaporated and sweetened condensed milk products sold in Latin American countries. The cake caught on and has been a Mexican kitchen mainstay ever since.
You'll find lots of variations in San Miguel de Allende and elsewhere for a Tres Leches Cake recipe. Some use a lot of butter, others have more of a sponge cake base.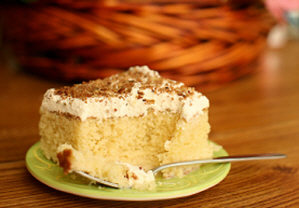 I like the one from El Buen Cafe, located on the corner of Jesús and Cuadrante in San Miguel. Owner Kris Rudolph is a great pastry chef. She's been baking cakes—and especially Tres Leches Cake at the cafe for over 17 years, and I think she gets it just right.
Here is her recipe, reprinted with permission from her bilingual cookbook, Recipe Secrets from "El Buen Café." You can buy it, and other cookbooks by Kris, at her website at the link above.
Pastel de Tres Leches
Three Milk Cake
Recipe by Kris Rudolph
Yield 1 cake - 12-15 slices
Ingredients:
2 Cups flour
1 Tablespoons baking powder
1 Teaspoon salt
7 eggs
1 Cup sugar
3/4 Cups milk
2 Tablespoons vanilla
13 ounces sweetened condensed milk
14 ounces evaporated milk
1 Cup cream
1/4 Cup rum (optional)
2 Cups whipped cream

Procedure:
1. Preheat the oven to 350 degrees.
2. Grease two 9-inch cake pans.
3. Place the flour, baking powder and salt in a bowl and blend.
4. Separate the 7 eggs. Whip the egg whites until soft peaks form, then slowly adding in the flour mixture.
5. Add the sugar, milk, vanilla and egg yolks to the egg whites. Beat one minute.
6. Pour the batter into the cake pans and bake for 25-30 minutes or until done.
7. While the cake is in the oven, whip the 3 milks (evaporated milk, sweetened condensed milk & cream) and rum in a blender,
8. Once you remove the cake from the oven, place the two layers onto separate large trays with a rim. Start pouring the three milks onto the hot cake, using a toothpick to prick the cake and help the milk soak in. (This step must be done while the cake is hot.) All the milk should be absorbed. Don't stop until it is.
9. Spread fresh whipped cream on one layer. Carefully stack the second layer on top, then decorate the cake with more fresh whipped cream. (I omit the sugar from the whipped cream because the cake is so sweet. You may wish to add it.)
Variation: Chocolate Tres Leches Cake
Add 1/4 Cup milk and 1/4 Cup cocoa to the batter. Also add 1/4 cup cocoa to your whipped cream.




Return from Tres Leches Cake Recipe to Cooking Classes in San Miguel

BACK to Experience San Miguel HOME