The San Miguel International
Jazz & Blues Festival
The Coolest, Swingingest Week in
San Miguel de Allende
S an Miguel de Allende has always been an arts center and the San Miguel International Jazz and Blues Festival is a major part of the mix. Since it was co-founded in 1994 by Elena Shoemaker, "San Miguel Jazz" has been as important to Thanksgiving weekend as turkey and stuffing.
Mexican and international jazz and blues musicians—including some major award-winning names in the music world—converge on San Miguel de Allende along with students, teachers, and music lovers of every stripe.
That first jazz festival ran three-and-a-half days and featured many San Miguel jazz artists as well as a few visiting players. It was such a popular success that audiences, organizers and volunteers were eager to do it again.
Over the years, the festival has expanded enormously. For 2008, there will be a full week of concerts—both paid and free—free workshops and informal jam sessions, plus an associated art exhibit. Venues have expanded to include the La Luciernaga Plaza and Parque Cloutier as well as the Teatro Angela Peralta and the Jardin.
All week long, swinging jazz and smooth blues fills the theater and the parks but also spills beyond the "official" venues to after-hours jam sessions in many of the towns bars and clubs. The San Miguel International Jazz and Blues Festival is the hottest ticket to the coolest show in town.
San Miguel rocks to the beat all week long.
San Miguel Jazz & Blues Festival 2008
Antonio Sanchez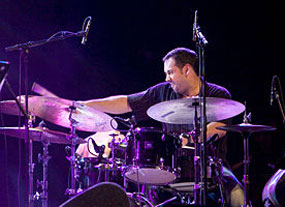 To get an idea of the scope of the annual
San Miguel International Jazz and Blues Festival,
take a look at some highlights of the 2008 lineup below. Next year, watch this space for updates for the 2009 festival as they become available.The festival kick off on Friday, November 28 is a free concert in the Jardin, featuring the San Miguel Jazz Cats along with many of the visiting festival artists. Another free concert the next day in Parque Cloutier makes the festival's fun available to everyone.
Saturday the Angela Peralta concerts get going with Daline Jones, whose voice is by turns sultry, soulful and funky, followed by three-time Grammy winner Antonio Sanchez. This drumming prodigy currently anchors the well-known Pat Metheny Group and debuted a solo album, "Migration," in 2007.
As the week progresses, watch for Grammy-winning keyboard artist Don Grusin, Brazilian guitar phenom Oscar Castro-Neves (an eight time Latin Grammy winner), Cuban pianist Gabriel Hernandez, and raise-the-roof drummer wunderkind Francisco Mela, who electrified the 2007 San Miguel jazz festival.
Marcia Ball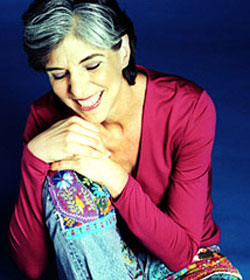 Louisiana-style blues singer and piano pounder Marcia Ball, a three-time Grammy nominee, makes her festival debut in 2008. Mexico's Betsy Pecanins, Mexican jazz-singer Iraida Noriega and nearly a dozen other international artists add to the jazzy/bluesy atmosphere.
San Miguel jazz winds up with the award-winning 18-piece Jazz Lab Big Band of Northern Illinois University followed by an all-star tribute to the Beatles.
For more details about artists, programs, tickets and anything else to do with the San Miguel International Jazz and Blues Festival, visit the Jazz Festival website.
Overall, the famous San Miguel International Jazz and Blues Festival is one of the highlights of San Miguel de Allende's musical year—and a great addition to the arts reputation of this artiest of Mexican towns.



Return from San Miguel International Jazz and Blues Festival to November Events in San Miguel

BACK to Experience San Miguel de Allende HOME