Inside San Miguel Blog:
the Archives
February, 2008
Here are the San Miguel Blog posts for February, 2008. They are listed in reverse chronological order, the most recent first.
February 11, 2008—Another San Miguel Blog I Like
There must be something about San Miguel de Allende that brings out the writer in folks...and the artist, photographer, ceramist, etc. But today we're talking about writing.
I keep finding blogs I like about San Miguel. Lately, I've really been enjoying reading the "Zócalo de Mexican Folk Art" blog by Deb Hall. Along with her husband, Rick, Deb owns "Zocalo," a folk art shop in San Miguel that I've loved for years. You'll find it at Hernandez Macias 110. They also have a newer store in Patzcuaro.
Zócalo, the store, is a one-stop course of study in Mexican folk art and craft. Like so often in Mexico, the colors nearly assault you as you walk in. Deb and Rick have a wonderful and very practiced eye for finding the best of the best folk art from all over Mexico.
They travel the country to find their merchandise. In her blog, Deb details discoveries they make along the way, as well as in San Miguel. This blog is always a delight for the lover of San Miguel—and all of Mexico.
You'll find it at Zocal de Mexican Folk Art. (Psst, be sure to click on the "Postcards from Mexico" link, too.)
February 9, 2008—Jacaranda Alert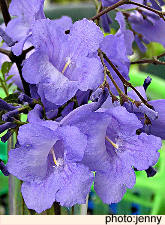 It's official. Spring has arrived in San Miguel de Allende. The proof is in the lovely purple/mauve blossoms beginning to sprout all over town.
Yes, the first jacaranda blossoms of the year have put in their appearance in San Miguel.
Soon, the hillsides will be dotted with big purple puff-balls, the ground at their feet spotted with fallen blossoms. The show will go on for several weeks.
To many sanmiguelenses, the jacaranda blossoms are a beloved symbol of our town. It's always somehow reassuring when they once more decide to grace us with their beauty.



Return from San Miguel Blog Archives, February 2008 to San Miguel Blog Archives

BACK to Experience San Miguel HOME