Inside San Miguel Blog:
the Archives
April, 2008
April 14, 2008—What do YOU Love about San Miguel?
It seems pretty clear that a lot of people fall in love with San Miguel almost at first sight. And stay that way.
But why, exactly? What makes us love this pretty little town so passionately?
I've just created a space where you can share YOUR reasons for loving San Miguel with the rest of us. Your "Top Ten (or so) Reasons to Love San Miguel" can become a page on this site.
To share the love (or just try to explain it), click on the link below. It'll take you to a simple form where you can tell the world why you love San Miguel.

Please share your reasons here.

April 7, 2008—Learn About Culinary Herbs & Other Edible Plants at El Charco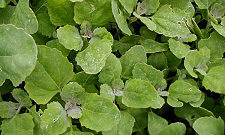 So you're wandering through the campo. You see an old Mexican woman gathering plants, picking some green and growing things, sniffing them, stuffing them into a bag on her back.
What's she picking? What's she going to do with them? Most likely she's going to take them home and cook them for her family, or use them to flavor a guisado or dress up a taco.
Could you do the same? Can you tell romeritos from verdolagas, pápalo from quelites? If not, you should plan to attend the next presentation in the ongoing lecture series at El Charco del Ingenio, the San Miguel de Allende botanical garden.
Victoria Challancin, owner of Flavors of the Sun International Cooking School of San Miguel, will be the guest lecturer at 9:30 am, Friday, April 11th.
Victoria's knowledge of Mexican culinary herbs and lesser-known edible plants is encyclopedic and her enthusiasm for her subject infectious. You'll get some anthropology lessons sprinkled among the recipes, some ethnobotany and phytochemistry mixed in with common-sense Mexican herbal lore and cooking tips. You'll find out what that old woman was probably picking, how she cooked it and why it was very healthy for her family.
The cost of the lecture is $70 pesos for El Charco members and $100 pesos for non-members (Hint: You can join on the spot.) Reservations can be made at nzerriffi@yahoo.com. Plan to arrive by 9:20 am at the reception area of the botanical garden on the edge of town.
For a deeper look at Victoria Challancin's expertise and charming writing style, check out her blog at the link below. The current issue features notes and a couple of recipes for delicious aguas frescas, the wonderfully refreshing fresh fruit drinks served all over Mexico.
April 7, 2008—The Rughookers of Agustin Gonzalez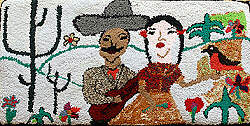 Not far from the million-dollar mansions and over-the-top meals of San Miguel de Allende is the village, or rancho, of Agustin Gonzalez. It is typical of many of the ranchos and tiny villages that dot the campo throughout the state of Guanajuato--poor, agricultural, distinctly un-modern. With 200 families, the full-time inhabitants are mostly female or elderly. The young men—husbands, brothers, fathers—have left for el Norte to earn money to send back home to their families. They will return for two months or so each year to work their fields, then head back north to work someone elses.
For several years now the finances of 18 of these rancheritas, women (and one man) of Agustin Gonzalez, have been looking a bit brighter thanks to what has come to be called The Rughook Project.
The project was begun some 15 years ago by members of the San Miguel group Mujeres en Cambio, a local non-profit organization committed to enhancing economic stability and education for women living in rural communities in central Mexico. The group had been looking for a way to help poor women from the campo earn extra income through their own craft. The rancheritas already had a tradition of lovely embroidery, so learning to hook rugs was a natural. The project has grown and prospered, and the women are beginning to gain recognition for their work as a true folk art.
The rugs are charming—whimsical and colorful, full of scenes of the rughookers daily lives, from pigs to churches, burros to cornstalks.
Charlotte Bell, a professional photographer and San Miguel part-timer, has helped the group with materials, publicity, logistics and anything else she can think of to keep the project succeeding and growing. In the process, she has become dear friends with the rughookers. Now she has created a wonderful DVD featuring her own still photographs of the village, the rancheritas and their rugs, with her own voice-over narration. It tells the whole story of the Rughookers of Agustin Gonzalez, a charming and fascinating one.
She has also created a website with several galleries of photographs of the rugs, more information on the village and people, and a way to order these rugs for yourself.
The site also tells how you can help. The rancheritas always need wool. Not wool yarn, but wool fabric, which they cut into strips for the hooking. They can use any 100% wool yardage or clothing they can cut up (adult sizes only, since children's clothing is too small to yield usable strips). The site offers a Texas address where you can donate wool.
For more on the Rughook Project and a chance to view and/or purchase the DVD, visit the link below. I urge you to visit the website. But be prepared to fall in love—with the people and with their art, their rugs.
The Rughookers of Agustin Gonzalez

Return from San Miguel Blog Archives, April 2008 to San Miguel Blog Archives

BACK to Experience San Miguel HOME