April Events in
San Miguel de Allende
An explosion of Color, Devotion
and Pageantry
I n April, events in San Miguel de Allende take on the deeply sacred and impressive aspect of Semana Santa, the Catholic Holy Week of Easter. If you can pick your time to be in San Miguel, I would strongly urge you to make it Semana Santa. It may be the most awe-striking and uplifting Mexican spectacle you will ever witness.
People travel from all over Mexico and the world to view and participate in San Miguel's Easter observations. The town is crowded but definitely worth the bother.
For a complete and in-depth discussion of Semana Santa, what it means and how to best enjoy it, go to Semana Santa in San Miguel de Allende.
Beyond Holy Week in San Miguel, in April, the heat is beginning to build (it usually peaks in May), all the flowers are in bloom. It's a great time to visit the Botanical Gardens, "El Charco del Ingenio," to spend a day at one of the hot springs near town or to just lounge indolently on a bench in the Jardín.
There will be many activities at the Biblioteca, such as lectures in the Sala Quetzal and the Cinemateca films in the Teatro Santa Ana. There will be performances scheduled at the Teatro Angela Peralta, gallery openings and walking tours.
All dates below refer to 2012.
For a full schedule of what's going on, check the "Que Pasa" section of Atencion San Miguel.
March 25 (Two Sundays before Easter) Festival of Our Lord of the Column. At midnight, a procession leaves the Sanctuary at Atotonilco carrying a revered statue of the beaten Christ leaning on a column. He wears a purple loincloth and dozens of scarves draped around him by local women. After a slow march to San Miguel, the procession arrives at the church of San Juan de Diós at about dawn, to deafening bells and fireworks. The scarves, now blessed, are then removed and saved for funerals and other ceremonies. Click this link to learn much more about this Our Lord of the Column.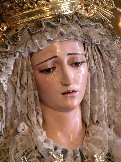 March 30 (Friday Before Holy Week) Viernes de Dolores, the "Friday of Sorrows" - This day honors Our Lady of Sorrows. It's also called "Day of the Altars." The four dozen fountains dotted around town are cleaned, painted and decorated with flowers, oranges, wheat grass, chamomile, gold foil and crepe paper. Many people also build altars in their homes, most of them visible from the street. Some are very elaborate, filling the entire living rooom, which has been emptied of furniture for the occasion. Others are more humble but no less heartfelt. A lovely tradition is to wander the streets looking at the altars and greeting the homeowners, who frequently offer candy, nuts, or hot drinks to passersby. Many of the best altars can be seen on Calle Barranca. For more on Viernes de Dolores in San Miguel, including some pictures I've taken of the altars, go the Virgen de Dolores—Friday of Sorrows.
April 1 - Palm Sunday. Vendors will be selling beautiful items made of handwoven palm fronds in front of all the main churches today. Some of the best are sold at the Oratorio. There is also a joyous procession today. For full details on this event of Holy Week in San Miguel, click on Palm Sunday in San Miguel de Allende.
April 2-5 - Mid-week Semana Santa Observances. These lesser processions during Holy Week in San Miguel are no less heartfelt. They provide the big build-up to Good Friday, the most solemn and awe-inspiring day of the year. For a full description of what to expect during this time, click on Mid-week of Semana Santa in San Miguel.
April 6 - Good Friday. Good Friday is the most solemn and beautiful religious spectacle in the San Miguel calendar. There are two major processions and the Jardín is packed with people all afternoon and into the evening. The final procession happens at dusk and ends by torchlight—a truly inspirational sight.
For more information on what to expect and how to best enjoy it all, go to Good Friday in San Miguel.
April 30 - Children's Day - This is a day to honor the kids with parties and gifts. Many schools will be hosting parties and you might see local ones going on in your neighborhood.

Return from April Events in San Miguel de Allende to Annual Events

BACK to Experience San Miguel HOME